Treat friends or family to drinks any time of the year
Never know what to gift someone? You can't go wrong with our colourfully designed Galway Bay Brewery gift cards!
These can be redeemed for food and drinks in thirteen of our Galway Bay Brewery bars in both Galway and Dublin! Whether they feel like tasty tacos, craft beers, hot wings or even craft cocktails… good times are coming!
Where to buy and use your Galway Bay Brewery gift card?
Locations in Dublin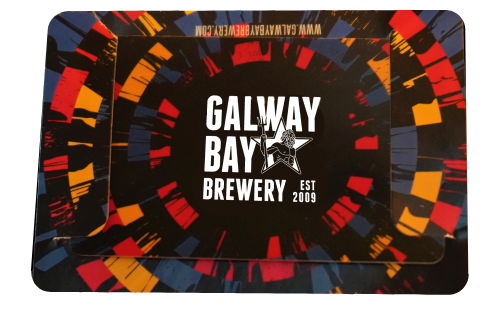 TERMS AND CONDITIONS
Galway Bay Brewery gift cards can be used in any Galway Bay bars with exception of Gasworks and Northern Lights (Belfast).
Not valid for the Galway Bay Brewery Online Shop.
We operate a no-refund policy. Refunds are unavailable on any Gift Card purchase.
Galway Bay Brewery Gift Cards become subject to the Terms and Conditions upon purchase.
The Galway Bay Brewery Gift Card is available in euro (€) only. The Card is not a credit card, or a charge card, nor is it a debit card linked to a current account. It is a prepaid card which meaning that money must be loaded onto the Card at the time of purchase.
The Galway Bay Brewery Gift Card is only redeemable in the Republic of Ireland at present.
It is the purchasers responsibility as the purchaser to ensure that the recipient of Galway Bay Brewery Gift Card is aware of the Terms and Conditions that apply to the Galway Bay Brewery Gift Card.
Vouchers may be used for more than one transaction and in conjunction with other payment methods. Vouchers may not be redeemed for cash. The card can be used as often as the cardholder would like while the card is valid and until the total amount has been used up.
In the event of suspected or proven fraud and/or improper use of the Galway Bay Brewery Gift Card, Galway Bay Brewery reserves the right to suspend (pending investigation) or cancel any Gift Card without notice.
Vouchers are valid for five years from date of purchase.
The Galway Bay Brewery group reserves the right to alter, change and/or add to the terms and conditions of this voucher at any time without notifying the holder.
Data collection and use are subject to the privacy policy of the Galway Bay Brewery and of the voucher purchase system supplier. Specifically, data is only collected for the purposes of completing or supporting an activity, namely the voucher purchase or the reservation process. No other use is made of the collected personal information, and is never passed to third-parties without permission.
Minimum load value of a Galway Bay Brewery Gift Card is €10.
Maximum load value of a Galway Bay Brewery Card is €1000.
If a Gift card voucher is lost / stolen this is the sole liability of the holder. No voucher will be replaced and no refund will be issued. Protect them as you would cash.
For queries related to Gift Cards please email info@galwaybaybeerco.com
Participating premises for Gift voucher and E-voucher are as follows:
Bar Rua, Dublin 2
Against The Grain, Dublin 2
The Beer Temple/ The Oak, Dublin 2
The Black Sheep, Dublin 1
The Brew Dock, Dublin 1
The 108, Dublin 6
Oslo, Salthill, Galway
The Salt House, Galway
The Dew Drop Inn, Galway